Well the day is finally here. KOAN Sound's new EP is here. The Adventures of Mr. Fox is a fresh new "funkstep" EP with some a whole whack of tracks.
Read the post after the jump.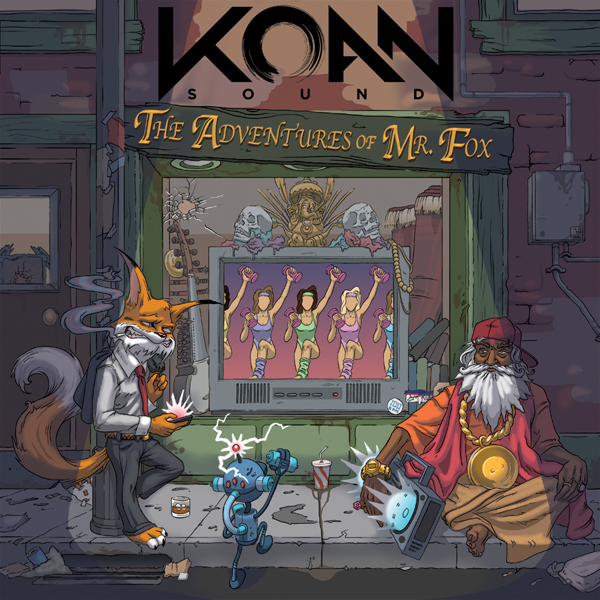 While the duo from Bristol have already released teasers for half the EP, this release is still so awesome. While I don't listen to much glitch hop or "funkstep", I do listen to KOAN Sound. These guys have mastered this sound and the result is a brilliant EP. Starting things off is Eatern Thug. While the track starts out pretty eerie and melodic, the drop explodes into a wall of the heaviest funkstep riff I've heard from the duo. Sly Fox is my favourite track on the EP and since they dropped it for free download last week, this has been my go to track. The track is an incredibly smooth tune with some of the catchiest riffs out there and you'll have the melody stuck in your head for days. 80s Fitness is a track and you can definitely hear in the vibes just how appropriately it was titled. With a heavy bass line this one is a good ole' funkstep track from KOAN Sound, no sugercoating, no lyrics, just straight to it; love it. While the track Introvert breaks off from KOAN Sound's usual style, it's a great track with amazing production and certainly a breath of fresh air in the EP before diving into the remixes. With intense remixes by Reso, Neosignal and OPIUO, it adds some sick spins to the tracks. The first remix of 80s Fitness by Reso keeps it funky with a funky techno remix. The remix of Eastern Thug by Neosignal is a heavier glitch, dubstep remix of the track and finally the Opiu remix of Sly Fox is by far the best remix on the EP. With some great beats and a fresh take on the track, it's an excellent way to close off the EP and the post. Be sure to check out more KOAN Sound and buy the EP, it's worth it!
Enjoy,